South Beach Estates
South Beach, also called SoBe, is a part of Miami Beach, basically it is its south peak. South Beach runs from South Pointe Park in the south to Dade Boulevard in the north. Usually when you see the famous and fabulous beaches of Miami you see the beaches of the South Beach. It is also called the neighborhood of Miami Beach. So, technically we could have set our research of South Beached based on the features of Miami Beach. Both are wonderful places for living, still South Beach has its own peculiarities which are good to be mentioned in this article.
What are the differences between Miami Beach and South Beach?
First of all: how far are South Beach and Miami Beach from each other? About 2.5 miles apart. It really is hard to make a difference between the two if you are driving along the highway. The same Art Deco buildings that many people associate with Miami Beach. The coastline is as beautiful as can be, the vibe is unique and atmospheric. There is an official borderline between the two, it is 23rd Street.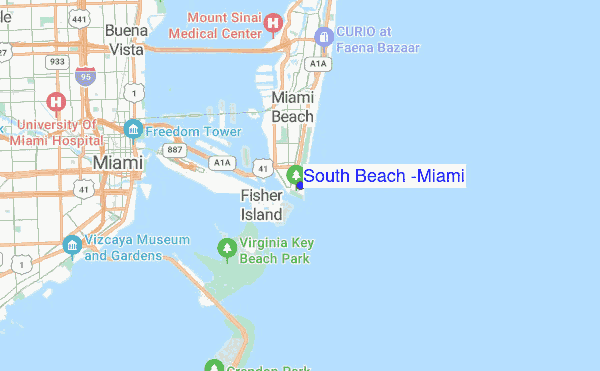 Historically the South Beach started as farmland and was used for coconut farms. It later became a part of Miami but has always stayed more residential compared to Miami Beach. Chances are not so high to see a celebrity in South Beach unlike Miami Beach which is famous for its fantastic beach resorts so loved by celebrities. You have good chances to come across your favorite movie star on the renowned walking boulevard of Miami Beach. South Beach, on the other hand, is more like a beach retreat with its absolutely adorable beach bars and sports activities that your whole family will like. Full of charming old hotels, restaurants, shopping centers and most exclusive nightclubs South Beach is not as hectic as Miami Beach, still vibrant and atmospheric as Miami can be.
Is it safe to live in South Beach, Miami?
South Beach is generally a safe place to live and raise children. But, as any resort town, it is full of people who are here to have fun, which does not normally bring any peace and quiet in the area. Be aware to stay away from stetts 8th through 11th at nighttime because that's where most of nightlife is. Other than that living in South Beach is not any more dangerous that living in any other cities of Florida. Most days you'll have to worry more about sunscreen because the all-year-round sunshine can be more dangerous for your kids than any potential crime in the city.
Is life affordable in South Beach?
Living in South Beach, Miami is only just a little less expensive than living in Miami Beach and more expensive than living downtown Miami. The reason for that is location. The residential area of South Beach is definitely a perfect location if you want to live a beach-style life without being bothered by the tourists so much. Being a 100% beach resort, South Beach offers a dense urban feel and a great choice of careers as well, which will allow you to be able to afford your life on one of the best beaches in the world. Most of the residents of South Beach rent their homes, others prefer to buy single houses or condos which is a great investment considering an always growing property market of the State of Florida. The fact that Florida doesn't have income tax adds up to the business potential of the city and makes living here even more pleasant. A comfortable lifestyle in South Beach presupposes that your income is $77,057 which is generally $46K more than the Median Income. You'll probably spend about 50 percent of your after-tax income on necessities like rent, food, utilities, health care, and transportation.
How to buy a condo in South Beach?
If your choice is to live a beach-style life but stay close to a big city, South Beach is your choice #1. You should know though that buying a condo in South Beach is not one of the easiest tasks. You'll be able to realize that when you start researching the information on the condos available in South Beach. Most of your requests will be answered with the property located in Miami or Miami Beach. A good advice here would be to request the availability of the single houses or condos by the ZIP code, which is 33139 for both Miami Beach and South Beach, but the area codes like 305 or 786 will lead you directly to South Beach and make your research easier and more exact. Another great advice is to contact our real estate agents at MyReProperty and they will be happy to guide you through all the options currently available at the property market of South Beach. Please, do not hesitate to do so, we are always there for you!